The TF Guild's Hawkindale Angles are based on the book by Frank L. Martindale ,Bevel Angles for Three Dimensional Connections(1948)
The Timber Framing Hawkindale Angle Formulas were developed by Rees Hawkins Acheson from the Martindale Hip and Valley Roof Angles and Hawkindale angle drawings by Ed Levin of the Timber Framers Guild.
The Hawkindales are a set of angles that describe the compound intersection of beams in hip and valley roof systems. They were developed by Rees Hawkins Acheson for Benson Woodworking and edited by Ed Levin for Paradigm Builders in the 1990s, building on Frank Martindales Bevel Angles, a steel detailing handbook published in 1948.
View When Roofs Collide by Will Beemer
Will Beemer's articles in Timber Framing Magazine, When Roofs Collide, is the best collection of documents on using the Hawkindale Angles.
Hip and Valley Roof Framing Diagrams at the Timber Framers Guild Web Site showing the location of the Hawnindale Angles.
Bevel angles for three dimensional connections The plan angle formula used by Rafter Tools is similar to Martindales Case 4 study of "Location & Formulas for Plan Angles".
Hawkindale Angles and the Prism Plane
Prism Plane = Unbacked shoulder of Hip Rafter & Valley Rafter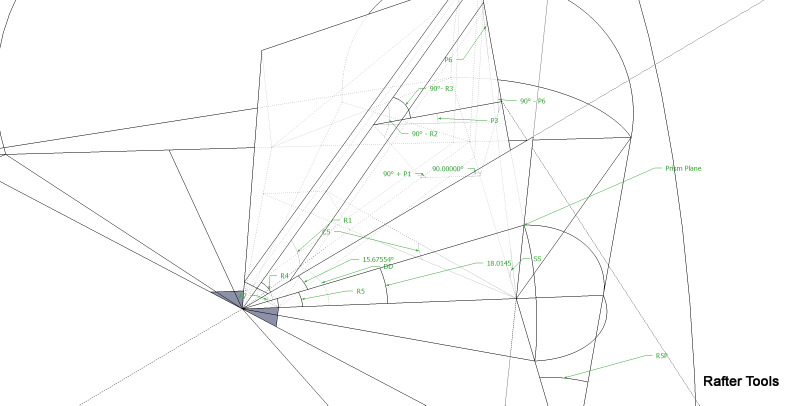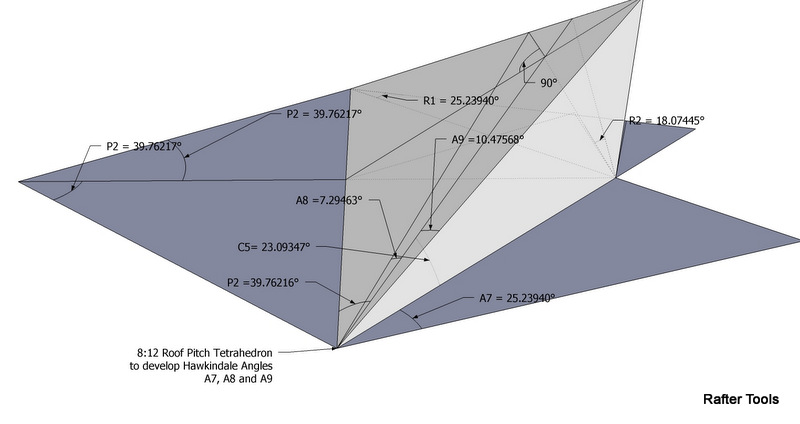 Roof Eave Angle
This is the corner angle of the building. Most Roof Eave Angle corners are at 90°. For Octagons and 45° BayWindows use an Roof Eave Angle of 135°. For Hexagons use an Roof Eave Angle of 120°. For irregular or bastard hip roofs the Roof Eave Angle can be between 35° and 150° You'll get an Unconstructable error message if the roof is unconstructable with the current input parameters.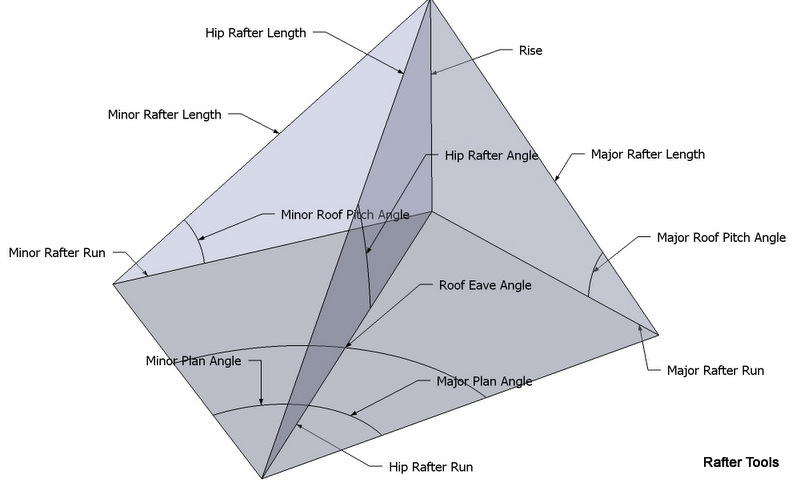 SS Main Roof Pitch Angle
Select the input type from the input menu, Imperial/English Inch base 12 —— default, enter roof pitches from 1—24 like 8 for an 8:12 pitched roof, Metric 300mm base, enter millimeters like 200 for a 33.69007° roof pitch angle, Decimal Inch base 10 —— enter base 10 decimal numbers like 5.7735 for a 30° roof pitch angle, Degrees input —— use any roof angle in degrees like 33.69007°
S Adjacent Roof Pitch Angle
Select the input type from the input menu, Imperial/English Inch base 12 —— default, enter roof pitches from 1—24 like 8 for an 8:12 pitched roof, Metric 300mm base, enter millimeters like 200 for a 33.69007° roof pitch angle, Decimal Inch base 10 —— enter base 10 decimal numbers like 5.7735 for a 30° roof pitch angle, Degrees input —— use any roof angle in degrees like 33.69007°
The input mode selection can be completely different from the output mode
Input Menu Mode
Imperial/English Inch base 12 —— default.. use American standard pitches over 12.
Metric 300mm base —— 300mm is 11.81102 inches, similar usage to the American framing squares printed in inches.
Decimal Inch base 10 ——use this option when working with tangents or using the Chappell Master Framing Square multiply the tangent of the angle by 10
Degrees
The output mode selection can be completely different from the input mode
Out Menu Mode
Imperial/English Inch base 12 —— default.. use American standard pitches over 12.
Metric 300mm base —— 300mm is 11.81102 inches, similar usage to the American framing squares.
Decimal Inch base 10 —— use this option when working with tangents or using the Chappell Master Framing Square
Development of a Tetrahedron for Hawkindale Angles